Industrial Wastewater Control System
Upgrade project for confidential client (Fortune 500 vehicle manufacturer) York, PA: Design, fabrication, programming, installation oversight, and commissioning of new control system for existing groundwater remediation system. Three existing PLC's were consolidated into a single control panel. We provided an enhanced safety oriented, motor and plant control system which included a new remotely accessible plant floor HMI in a foot print roughly 1/3 of the original control system.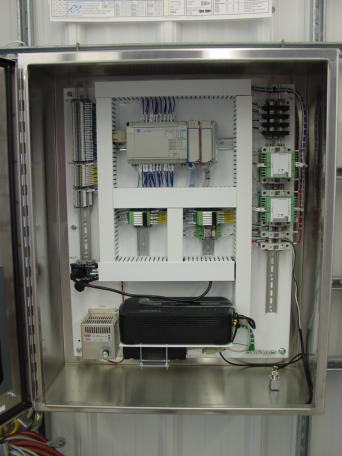 South Jersey Clothing Company Site (Buena, NJ):
Replace main plant's obsolete PLC-5 with a ControlLogix PLC. Replace unsupported Windows XP HMI PC, update Citect HMI software to current version and revise HMI software to communicate with new PLC.
Lehigh County Authority, Arcadia West Pump House Upgrade
Provide new Modicon M340 PLC based control panel and add to existing SCADA system. Remote communications were via cellular modem, to the authority's operations center. Project was performed in conjunction with a complete pump house upgrade, including; addition of variable frequency drives; new pumps, instrumentation, generator, and chemical feeds.
Cosden Chemical Superfund Site:
Control system had numerous operational problems, lacked proper documentation including wiring diagrams, and had a history of surge related failures. Aptus performed field investigations and created wiring diagrams, troubleshoot and repaired the operational issues, and addressed the surge related issues.
Aryzta Bakery (Hazleton, PA):
Reworked existing control panel to provide completely automated control of this industrial wastewater plant. Project was performed in conjunction with process optimization design, performed by Glace Associates. The completed project significantly increased operational efficiencies, improving treatment, reducing operational manpower requirements, and also reducing energy consumption and sludge hauling.
Lipari HMI replacement:
Project involved upgrading redundant Citect HMI PCs from Windows XP to current Windows version. The original integrator was unable to complete the project and after 9 months was removed. Aptus brought the HMI up to the most current version and restored full operation.